There are two Peck's Bad Boy board games that I am aware of.

Game #1- The Bad Boy's Little Game 1891
Game #2- Peck's Bad Boy with the Circus 1939

Game #1

The Bad Boy's Little Game and was published by the R. Bliss Manufacturing Company in 1891. Bliss was founded by Rufus Bliss in Pawtucket, Rhode Island. It was later sold to Mason and Parker of Winchendon, Massachusetts. The cover of the box features pictures of Bad Boy vignettes as well as a portrait of George W. Peck with a caption- Gov of Wisconsin. Within the box is the board, 4 player pieces and 24 cards. I do not have the spinner (or dice) that moves the pieces. The box pictured here is 15.5 x 7.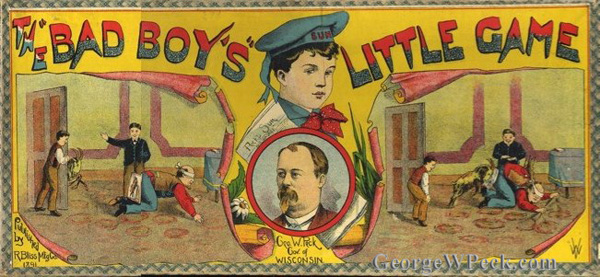 The board which is roughly the same size is below.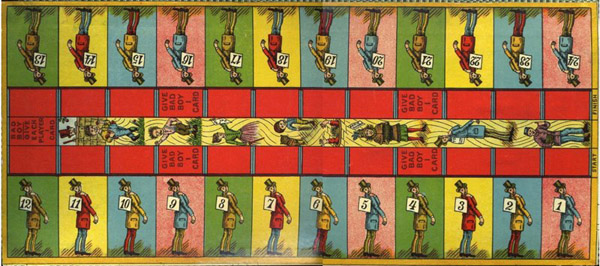 There are 4 player pieces. His Girl, His Pa, His Chum and The Bad Boy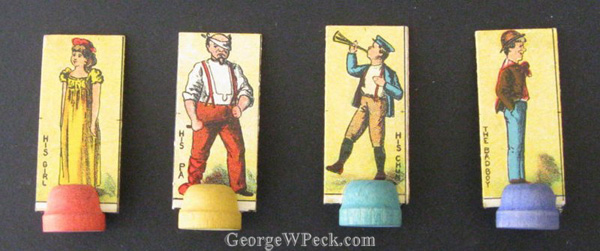 There are 24 cards. They are 2 X 1.25. They form 12 unique picture as is seen here. On the game board there are a number of places where the player can get a card. Undoubtedly the winner is the one with the most complete pictures at the end. Without the directions however this is only a guess.


Game #2

Peck's Bad Boy with the Circus game was produced by the Milton Bradley Company in 1939. This game was one of a number of ephemera items that was "inspired" by the Peck's Bad Boy with the Circus movie which starred Tommy Kelly.

The game is a simple move around the board using the dice and the cards. The game pieces are shown below. They are all present.

The box is 10 x 19.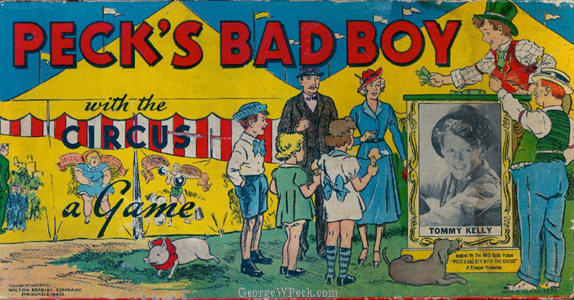 This is a picture of the end of the box. It is therefore 10 inches long.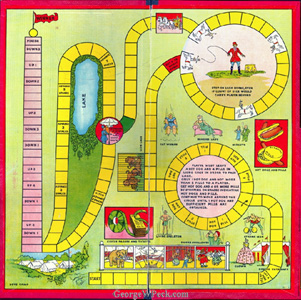 Game Board (18.5 x 18.5)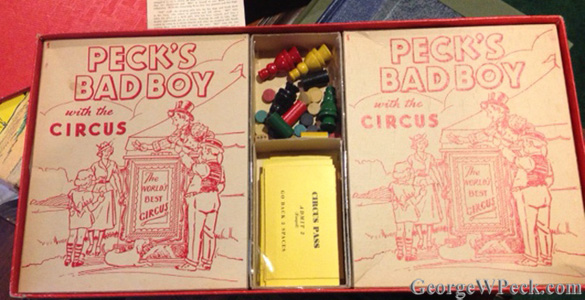 Inside of box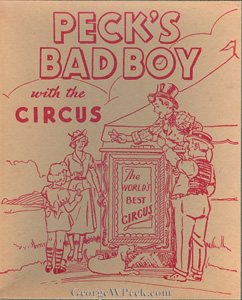 Cardboard inset
Game directions

Game pieces and game cards