The first edition of this title was published by Fields, Osgood and Company in 1870. This publication followed the serialized edition which appeared in Our Young Folks from January to December, 1869. The importance of this book in 19th century children's literature cannot be overemphasized. The book was a huge seller with numerous reprints for many years. It is recognized in Jacob Blanck's Peter Parley to Penrod book (as is Peck's Bad Boy).

Below are the first and last pages of the serialized edition. Aldrich's story is mainly an autobiographical edition and is one of the very mild "Bad Boys". His bad boy is meant to be a real boy not a one dimensional child.
| | |
| --- | --- |
| | |


Numerous hardcover editions were published. The first edition was published in 1870 by Fields, Osgood and Company. According to BAL there were two 1870 editions published. One was a trade edition while the other was a large paper edition (Probably only 6 copies in this format were published of which three were destroyed in a Boston fire in 1872).

Editions:
Fields, Osgood and Company 1870-1872
Multiple colors have been seen. The first state has the word "scattered" on page 14, line 20. In the second state this word written as "scatter". Also on page 197, line 10 of the first edition has "abroad" whereas later copies have "aboard".


James Osgood and Company 1872-1878
1873. Note that this book's cover format is the same as the earlier James Osgood format.




1875




1876


Houghton Osgood and Co.1878-1880

Houghton, Mifflin and Company 1880-1908
This undated book lists "Mercedes and other Lyrics" in the front ads. This Aldrich book was published in 1884. I have seen Boston and New York on the title page from 1881. Thus this book may have used an earlier title page but was probably published in about 1884.
1884




1895




This format has been seen with 1891 (Thirty-Fourth Edition) and 1896 (Forty-Sixth Edition) on the title pages.


Houghton, Mifflin Company 1908
This book was copyrighted in 1911.
Post 1911




Post 1911 (published after the post-1911 book above)


Other American Publishers

F. M. Lupton, New York
(For information about this publisher see: http://www.henryaltemus.com/lupton/index.html

The Chimney Corner Series was published by Lupton between 1893 and 1902. There were a total of 189 titles in wraps. The first 74 pages of this issue complete the "Bad Boy" story (in double columns). Thereafter there are a number of other shorter tales by a miscellany of authors. There are no illustrations except for the front cover.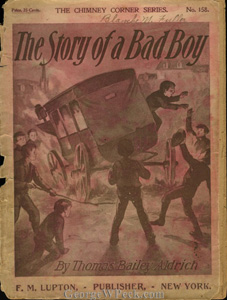 Late 1890's


A. L. Burt Company, New York
This firm published this version in approximately the late teens into the 1920's. There are no illustrations.


Goldsmith Publishing Company, Chicago (ca. 1930-1940's)
This title was part of Goldsmith's Red Star Classics' Series. Although not precise, I believe this series of reprints was published in the 1930-1940's era. The text is unabridged. There are eight line drawn illustrations by an artist BT (or TB) I do not know to whom the initials belong. The dust jacket picture is a generic one used by Goldsmith for a number of their juvenile works.


Foreign Editions

Gay and Bird, London 1898
This London publisher printed a copy of this title in 1898. This edition has a new preface which is dated 1894 by the author.