The Atkinson's Comedy Company and other producers printed quite a number of large multi-colored posters which undoubtedly were posted to attract the attention of potential theatre goers. I personally have a number and have seen a few others. These are shown below for interest. Most likely they were published in the 1880's-1890's.



This 14" x 31" Atkinson's Comedy Co. poster is interesting because it actually includes the theatre name and the date for the play. Unfortunately there are a number of Uniontown Opera Houses.Thus I am unable to determine exactly where this play took place and in what year it was performed.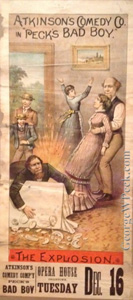 It is unclear whether this poster was used to advertise a play or the books or something else. Forbes and Co. from Boston produced this poster. This company also did a number of the Atkinson Comedy Co. posters. The picture of the Bad Boy however differs substantially from the other posters I have seen.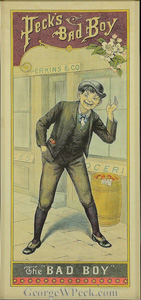 J. L. Harvey was most likely not authorized to produce Peck's Bad Boy. This poster was published by the Quigley Lithograph Co. in Kansas City. It appears that the predecessor to Quigley was Ackerman-Quigley. The latter company ceased to exist in the late 1910's to early 1920's. Thus, the approximate date of this poster and production.

Posters of non-Atkinson production companies are much scarcer than the Atkinson posters (which are also quite uncommon). This piece is 26.5 x 21.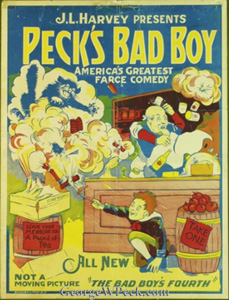 This poster in 8 feet by 12.5 feet and clearly the largest I have seen.